Aeration type liquid aerosol
The flush type liquid aerosol device includes a gas tank, a tank lid, a spray nozzle, a liquid storage soft bag, and a one-way flush valve. The spray nozzle is airtightly mounted on the lid of the can, and the liquid storage soft bag and the spray nozzle are airtightly connected. The one-way flushing valve is arranged at the bottom of the gas storage tank, and the liquid storage soft bag is placed in the gas storage tank. The airtight connection between the tank cover and the gas storage tank is provided with a pressure display device and a pressure limiting device on the gas storage tank. The gas pressure in the tank can be limited as well as displayed. This type of aerosol dispenser can be used for repeated air-injection and repeated fluid exchange. The use cost is low, and the gas power used by the aerosol generator is compressed air, which does not contain harmful gases that damage the atmosphere and protects the environment.

Heat transfer and silk screen Inkjet printing onto garments is no longer a good choice and came out of date with the digital printing technology development. Over the last few years the prints have become much more durable and the quality and wash-ability is now equal to and even better than screen printing.

From short runs or even one-off prints to large production runs,the kingmajet Jet has been proven by large and small companies choose over and over again.





We have been the leader in this technology and brought our years of digital printing experience to play when designing the Tshirt on-line

In fact, we have sold many direct to Garment Printer to the world wide and we were the pioneer company to introduce the pigment water-based white inkjet ink to the industry!




Clothes Printer feature and benefit:

1. cost-effectiveness ,no printing plates, silkscreens are used, avoiding the high set-up cost of plate-making, as is necessary for traditional printing methods like screen printing.
2. instant multicolored image output ,computerized and processing all colors at one time, while screen printing can print only simple designs in a maximum of three colors and involves a separate and time-consuming step for each color to be printed.
3. allowing for on-demand printing and even a modification of the image with each impression,ideally suited for personalized printing.
4. designed for both mass production and short run production, of the same individual cost.
5. aiming at high-end products with high speed and hi-definition, Max. resolution is 2880dpi*2880dpi.
6. Professional color management system achieves the same appearance of colors when converted from different color devices to corresponding media.
7. Easy to use, requiring no technical skill to use our printer,30 minutes video training is enough for a new hand to learn to use our machine as long as he or she knows how to use a image processing software like Photoshop to create an image file.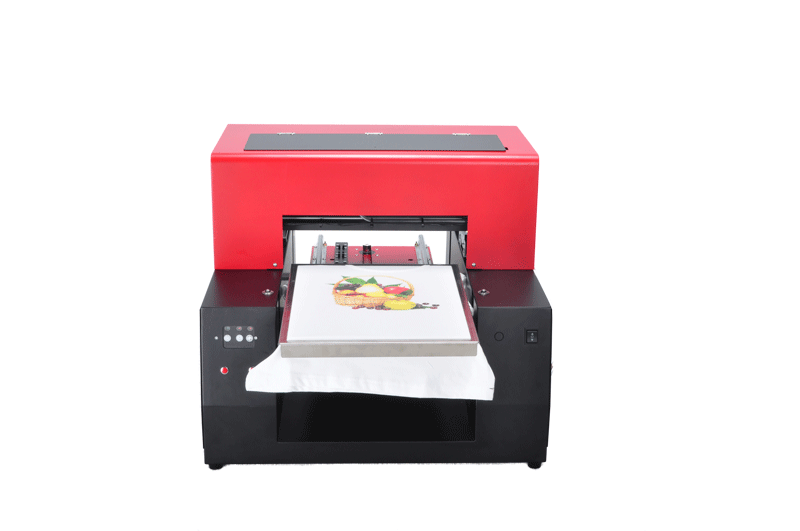 | | |
| --- | --- |
| Name | Clothes printer |
| Print head | DX5 |
| Printer size | 33*43cm(33*60cm) |
| Printing speed | A4 photo/111s |
| Printng resolution | 5760*1440dpi |
| Nozzles | 90*6=540 |
| Interface | USB2.0 |
| Net weight/Gross weight | 55Kg/60Kg |
| Printer size | 750*630*510mm |
| Height adjustment | Automatic |
| Working power | 110V/220V 50/60Hz 30-75W |
| Operation system | Windows 7/XP/2000/Vista etc |
| Temperature | 5-35o |
Clothes Printer
Clothes Printer,Digital Clothes Printer,Printer Machine For Cloth,Mini Cloth Printing Machine
Shenzhen Refinecolor Technology Co., LTD. , http://www.rfcprinter.com