Medical industry data protection system
Project background and needs

XX Hospital is a comprehensive hospital integrating medical treatment, teaching and scientific research. With the further development and improvement of hospital information systems, various business departments have become increasingly dependent on hospital core business information systems. The normal operation of the core business information system directly affects the normal operation of each department and even the entire hospital. Therefore, the business continuity and data security of the core business information system have become increasingly significant issues. At the same time, with the digitization of business information and the increase of business systems, the safe, reliable, and efficient storage and backup of massive information data (such as PACS data) generated by each system is also an urgent problem to be solved.

solution

The solution adopts stable and mature FC-SAN products to establish a centralized shared data platform in the data center, and realizes centralized and unified storage of data for various business systems such as HIS, PACS, LIS / RIS and other applications. At the same time, the dual-machine HA software is used to carry the key HIS business system, and the multi-path software is used on the host side to realize automatic failover management of multiple host paths. In addition, the use of high-performance, cost-effective virtual tape library equipment and data management software to provide online data backup and offline data archive protection. The core business system also adopts an advanced emergency disaster recovery system to provide local data protection, realize rapid backup and recovery of data and applications, and provide multiple copy protection of important data.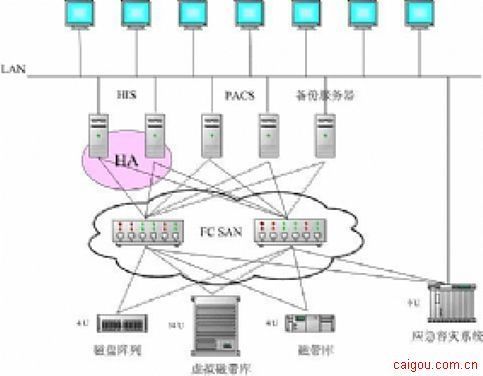 Application implementation effect

By building storage, backup, and disaster recovery systems for users, not only has centralized storage of data been established, a stable and reliable data sharing platform has been established, but also high-performance, highly reliable data backup protection and offline data archiving for core business systems Protection provides a strong guarantee for the stability of the application system and data security.
PURE SILICONE & HEAT RESISTANT - Made of 100% food grade silicone material. FDA approved & BPA free. It can withstand heat up to 480 degrees fahrenheit.
SOFT & STRONG - Comfortable handling with a nice and flexible grip. The metal rod under the silicone handle makes it easy to use for BBQ & extreme heat. Also, the long handle will keep you safe from heat pressure.
SAFTEY GUARANTEED - Safe to use in Oven, Microwave, Dishwasher & Freezer. The matrial won't melt under any heat pressure and safe to use for BBQ, baking, even cooking in a frying pan.
Silicone Brush,Cleaning Fruit Scrubber,Kitchen Silicone Brush,Cleaning Vegetable Scrubber

Yangjiang Homelife Industry & Trading Co., Ltd. , https://www.kitchenutensil.de